Oil Paintings by Ginny Page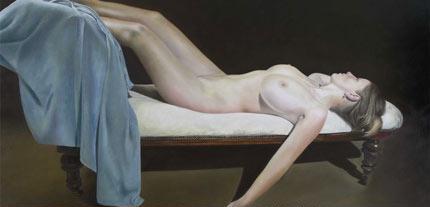 Ginny Page,
Internationally renowned realist oil painter
This website will give you insight into Ginny Page's style of painting.
Ginny Page originates from Lincolnshire, England. She started painting with water colours at the age of 10 in rural Lincolnshire were the first sources of inspiration arose.
Ginny Page studied at Lincoln College of Art and Design, and continued to paint and exhibited in Canada and England before she came to Denmark in 1986, were she resides today.
After moving to Denmark Ginny has worked solely in oil on canvas. Her style is realistic and elements are painted with intense observation and accuracy for the subject. The motifs are personal expressions generally illustrating beauty and fragility in combination.

Today Ginny has pronounced success with her own works and portraiture commissions both in Denmark and internationally.

Please contact Ginny Page by Email for further information and join "Ginny Page Art" on Facebook if you want to
- be invited to future exhibitions
- get updated on news or
-just want to follow Ginny Page Art.
Facebook: Ginny Page Art
"Visit Ginny Page in her Studio. Art Video 2018"
Enjoy this action packed Art Video produced by "Page Bros Productions" (www.pagebros.dk) and original music by "The Royal Air Force" (www.traf.uk).


"Portraiture"
Please contact me if you are interested in commissioning a portrait. Personal portraits have taken on a new revival in this day and age where the modern digital social medias produce "portraits" in the form of selfies every second or minute without capturing the person within. A portrait painted with oil on canvas, demands time and during the process the interaction between the sitter and the artist will uncover layers. A personal portrait is a valuable gift which will last forever throughout generations. Please contact Ginny Page for more information.


Read more about portraiture by Ginny Page